At Kansas City Chiropractic, Massage Therapy is provided by trained and professionally licensed massage therapists that provide 30, 60, or 90 minute sessions of goal-oriented techniques customized to one's unique relaxation and pain management needs.
Deep Tissue Massage is provided through heavier pressure with the goal of pain relief, detoxification, healing and strengthening muscular tension and soreness and is recommended for performance athletes (depending on training), and those with a higher pain threshold.
Swedish Massage is provided through slower, elongated strategic hand strokes that are designed for fluid movement, relaxation, energy revival, or those just wanting to relax without deep pressure.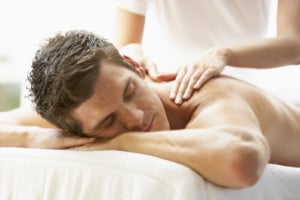 Introductory Massage Special – 60 minutes for $65 ($30 Savings)
30 Minute Massage (Deep Tissue or Swedish) – $50
60 Minute Massage (Deep Tissue or Swedish)- $95
90 Minute Massage (Deep Tissue or Swedish) – $145